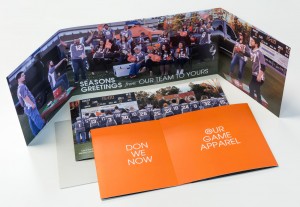 We've all heard the news that's about…well…the news. Newspapers are hurting across the country as everything moves digital, and that includes advertising.
Newspaper ads are just one form of print advertising. And that's why we encourage you to think about flyers, handouts, brochures, etc. as part of your overall marketing strategy.
Why? Here's a few reasons, with help from Direct Response Imaging:
Your message in customer hands. The average person forgets 80% of what he/she reads in a given day. Considering there's plenty of online content that begins to flow together, having something printed stands as a reminder of your message.
Legitimacy. What's the best type of advertising? Word of mouth. Anybody can log onto MailChimp or Constant Contact, upload an image or two, type a bit of text, and send a nice-looking email. But if a potential customer has your information in-hand, then said info can be passed along friend to friend.
Hit 'em where they are. You leave work, head home, pull up to the curb/in the driveway, get out of the car – and then what? Most people either go get the mail, or check it once they walk in the door! Today's average consumer may not have a home phone, but they do have a mailing address – and with an eye-catching piece, you'll have their undivided attention.
It's different. Remember how everyone can create an email? How a lot of content is now online? What about those times when a person's eyes aren't glued to a screen? Lots of advertisers have abandoned print media, which means there's less competition.
Micro-moments leads to macro-moments. It's rare when a person sees an ad of any type and immediately acts on it. It often takes many – from a TV commercial to a strong design piece to a remarketing ad via Google AdWords – to keep your brand fresh in people's minds. Well-designed advertising pieces do make a difference and help with that journey towards making the sale!
Our creative team understands that we live in a digital world. But they also know that in advertising, you can't do what everyone else is doing – you have to stand out, or your message will be lost. While the term "print media" may immediately take your mind to a newspaper spread, there are many other effective design options available from our award-winning staff to push your business ahead.
Contact us today and see how a great graphic design strategy can work for you!