Our clients come from all industries: Medical, construction, private schools, designers, and many small businesses. And they have a range of unique needs.
The beauty of operating as a full-service agency is that we can adapt to those differences and offer solutions intended for each target audience and representing the client's look, feel, and brand well.
So, what are some of those challenges? And how can a marketing agency like Mass Media Marketing (M3) impact your bottom line? Here's 15 issues we've seen and ways we can address them:
#1: "Our numbers are dropping."
This can range from enrollment to the company's bottom line, but it all means the same: Your income is dropping. We can look at the data, identify areas of weakness/strength, and build a plan to capitalize on your audience and our expertise of market trends to get more people in the door!
#2: "I can't afford to advertise."
The truth is, you can't afford not to.
We're taught from a young age to always save a portion of what we earn.  We sock money away in emergency funds, in college savings plans, in 401Ks to prepare for retirement.  In many ways, advertising is essentially investing for your business:  it is a process by which you build your business's brand and reputation over time (not overnight), and as time goes by, the dividends begin to pay off.
The beauty of it is, you can afford to advertise in some capacity, no matter how small your budget. Maximizing our client's budget no matter how big or small is our specialty! Just remember, the key to success with a smaller budget is consistency.
#3: "We're a new business."
Branding can seem like a vague term, but it's key here. When thinking about something like the Consumer Decision Journey, we understand you need to be front-and-center in people's minds. And there are multiple ways to make sure your target market knows who you and what you do!
#4: "This is a new market."
Similarly, if you're expanding into a new market – whether in the Augusta area or across the country – there are ways to specifically target the people you want to reach. From direct mail pieces to the right radio, TV, video production, or digital marketing, we have the connections to make it happen.
#5: "Marketing takes a lot of time."
It can! But an advertising agency operates as the marketing wing of your business, streamlining the process but leaving the final decisions up to you. You're in control, but we're leveraging our expertise and doing the legwork!
#6: "I run my own Google AdWords."
We've seen this before, and sometimes the client does a great job of it. Many times, though, the many subtleties a complex campaign requires can be lost on someone who's new to the program. As a Google Partner, we work directly with Google experts to better optimize AdWords accounts, often finding new ways to target customers. Put it to the test!
#7: "I buy my own TV and radio spots."
We have great relationships with media, and we're one of the biggest buyers of their advertising. We also have decades of experience in advertising on these platforms. We leverage both to get the best plan for your specific needs – and we handle all of the paperwork, billing, etc., making it easier on you.
#8: "Our website isn't mobile-friendly."
This comes up more often than you may expect. But with over half of web traffic now on mobile, a Google search penalty for sites that aren't mobile-friendly, and good user experience rating as a primary factor in how your site impacts your bottom line, our web design and web hosting experts know exactly how to create a site your customers love to visit again and again.
#9: "We began offering a new service."
Great! But this new service may have a new target audience, and so adapting your marketing to best support showcasing your new and existing services is key, and we have all the tools and expertise to do it well.
#10: "People don't find me on Google."
Our digital marketing team is here to help in a variety of ways. From updating the copy on your site to be more SEO-friendly to implementing the AdWords plan that's right for you and your budget, you'll be found by the people most likely to buy your product or service. We'll make sure of it.
#11: "I need a new logo/look."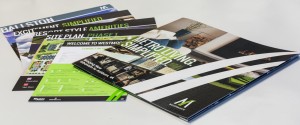 Our graphic design team is here for you. Logo design, brochures, flyers, email blasts, banners, billboards….and the icons/designs that elevate your website from good to great. We'll work with your ideas and thoughts and bring you some amazing options.
#12: "You can't prove it works."
Au contraire! Different campaigns may have different objectives (increase awareness, drive sales, get more people to contact you), but we can absolutely show you just how effective your marketing is through analytics and data tracking. You can also ask customers how they heard about you – it's a great way to see for yourself how you're being found!
#13: "I don't need a website."
According to this 2014 AdWeek article, 81% of shoppers do online research before buying a product. It points back to the Consumer Decision Journey we've written about: namely, ensuring you put your best foot forward to get noticed and then get the sale. A website is part of that online research, and a great user experience can be all the difference. Plus, a great website lends itself to better digital marketing, opening more (and cheaper) doors to continue to grow!
#14: "I've seen billboards, and they're a waste of money."
While we agree there are certainly some examples of wasted money out there, we've recently written about what makes for an effective billboard. Our graphics team boasts years of experience not just creating designs, but also understanding the concepts that drive amazing work. We know how and why a design will work, and we're happy to explain every detail to you!
#15: "Marketing is not transparent. It's too confusing."
With so many options available, and many channels within each option, it certainly can be overwhelming! But we're on top of what's best for your specific needs, budget, and target audience and can show you the best ones to choose from. We're happy to explain the process behind each one, when/where/how your advertising will show, and keep you up to date on its performance every month. If you have questions, then we want to hear them and directly answer them!
Put us to the test today!