This concludes our look at the Consumer Decision Journey by McKinsey&Company. Click here for part one, and here for part two.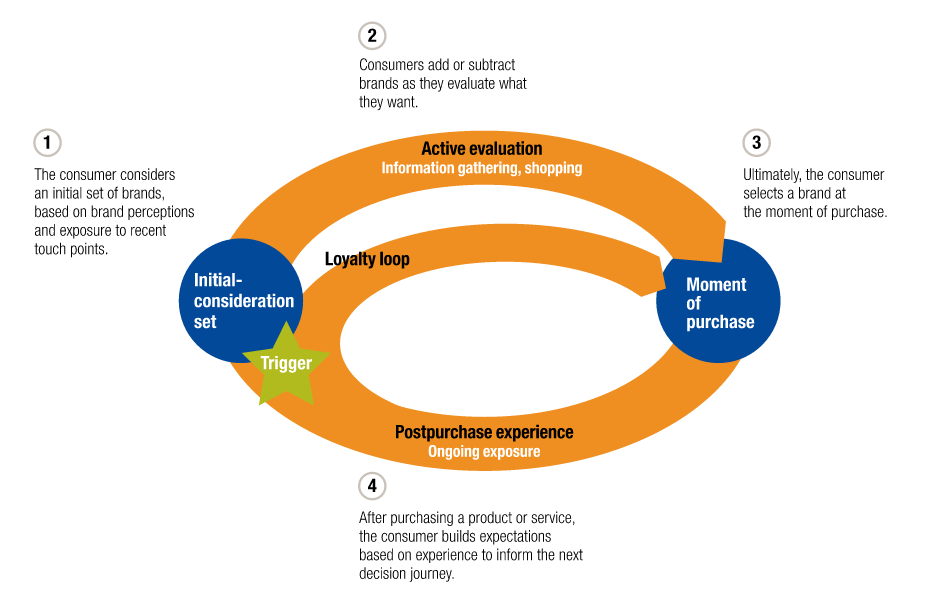 So, you've done it. Your brand aggressively marketed itself, the customer recognized it, and eventually the customer bought YOUR product. Congratulations!
But it's not over yet.
The best kind of consumer is the loyal one. The one who suggests your product to friends, who automatically selects your brand when it's time to buy again, and the one who leaves positive feedback online for others to see.
Simply put, customer loyalty is king. And now that this customer has purchased your product, it's your chance to create the customer loyalty loop. The consumer uses your product and begins forming or reinforcing opinions about it. If the product meets customer expectations, then the next time this person has a trigger that creates a need for this, you're more likely to get the repeat business.
For example: Let's say a guy, John, is out of peanut butter. He goes to the store, and selects your brand. As he eats the peanut butter, John forms opinions about the value and whether he'd like to buy it again or not.
Once he's out of peanut butter again (the trigger), John will return to the store. If your peanut butter generated a great experience, John may bypass thinking about other brands at all – he's a loyal customer, and walks right up to your brand, throws it in the shopping cart, and moves on. This is the loyalty loop.
Of course, if John has a bad experience or the peanut butter simply doesn't meet expectations, then he may intentionally exclude your brand once he's at the store again. You're out of the initial consideration set and the active evaluation, which means he won't buy your product again.
This may seem a bit silly for peanut butter, but the customer service – and moreover, the experience – is what builds upon the foundation of buying what you sell. A great experience leads to buying it again, which leads to another great experience, etc.
In addition, there are other, marketing-related positives to loyal customers. They're more likely to provide a positive review on their favorite site (though you may need to encourage them to do so), which is a small ranking factor in local SEO algorithms and gives a strong positive impression to new potential customers. And what business owner doesn't love showing off testimonials from happy customers?
Thinking through the end goal of converting a person's need into a loyal customer provides a framework to establish a great business plan – and how to market it effectively. The end result? A steadily-growing client base that allows your business to grow and THRIVE!