Previously, we discussed the concept of a trigger and the Initial Consideration Set within the Consumer Decision Journey. This is part two, taking a look at the Active Evaluation. For part three on the loyalty loop, click here!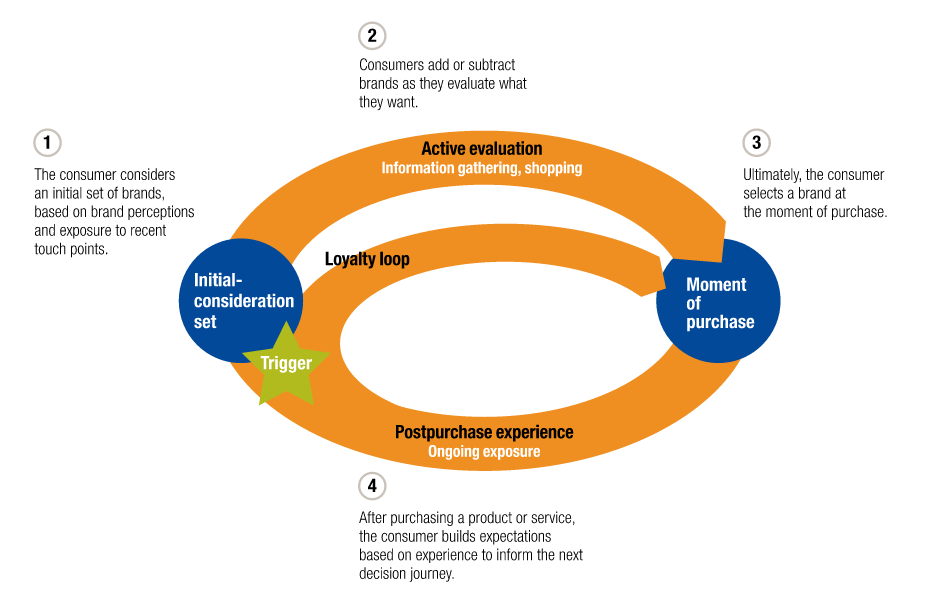 Credit: McKinsey & Company.
It's your friend's birthday. And your friend loves trying new things: Adventures, restaurants, etc. And it's up to you to plan an awesome birthday outing for the group. If the food is terrible, then the night will be ruined, so you need to figure out a place to make a reservation.
What do you do?
Chances are, you'll look for online reviews such as TripAdvisor or Yelp and as seen on Google.
That is Active Evaluation. You're looking to whittle down the list of potential places to one, so you can make a purchase and feel good about it. Pro-con lists comes into play here as different choices are weighed against each other.
But remember, it's not necessarily about what the facts are – it's about what the customer perceives about you. If your company has a great reputation for taking care of the environment, or has won awards for stellar customer service, those are great aspects to market! But if the consumer doesn't know about those accolades when it's time to make the purchase, you've missed your chance.
That's where effective brand messaging comes in. From a website that showcases the most relevant information exactly where your audience wants it, to video, audio, and print placements that highlight different parts of your business, establishing a consistent perception of who you are leads to more pros in the active evaluation.
Also worth remembering: This process can take mere seconds, or months. It simply depends on the product. If you're in the grocery store looking at 15 brands of barbeque sauce, your Consumer Decision Journey occurs as you eye different brands, prices, and types of sauce available. This takes a matter of moments before you grab the sauce you choose and toss it in your cart. But for many online purchases with multiple retailers, or big-ticket items like picking a bank for a mortgage, people tend to take more time.
With excellent branding, your business works its way into more people's Consumer Decision Journey.
And that, ultimately, leads to more business.